Property Inspections
Buying, selling, building or staying in the property you own, a property inspection just makes good sense! Understanding the condition of the systems and components of a building are critical when it comes to purchase, repair and maintenance decisions.

A professional home inspection is an impartial third-party visual evaluation of the physical structure, electrical, plumbing, heating, air conditioning, roofing, interior and exterior.

Upon completion, you will receive a formal written inspection report detailing the condition of each item inspected.

Paisano Inspection Services proudly serves the Santa Fe/Los Alamos and the Northern New Mexico Area

Keeping Things in Perspective
All homes have problems. The question is what and how serious are the problems. We can help you understand important issues relating to your home and will communicate that to you.

We are sensitive to the emotions present during the transaction and know that the timely delivery of the message is as important as its content. When discussing problems, we may suggest solutions and maintenance programs. We will offer valuable information to give you the peace of mind to buy with confidence.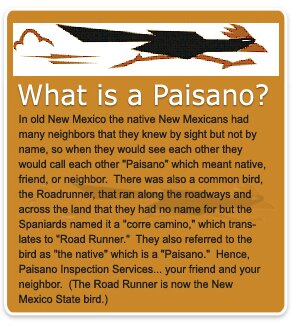 Our Inspection Services
Property Inspections (including Manufactured Homes)


Radon Measurement


New Construction / Pre-Drywall Inspections


Home Warranty Inspections


Home Maintenance Inspections
Short-turnaround Inspections Available
When other inspectors are scheduled out weeks in advance, Paisano Inspection can typically perform an inspection within days of request, working to your schedule.
Paisano Inspection can perform inspections any day of the week, however we specialize in weekend inspections and evening inspections. We want you to be able to use your time to your advantage.
Click here to verify your home inspector is part of ASHI.